Map a domain to your site
Domains can be mapped in the VIP Dashboard with the following steps. Access to the VIP Dashboard is controlled via GitHub. If you do not have access to the VIP Dashboard, please contact an Administrator of your WordPress VIP-associated GitHub repository.
When adding a domain, choosing to include or not include www in the domain you add the fully qualified domain name (FQDN). In a multisite, these redirects will need to be handled specifically in the vip-config.php file, as outlined below.
Select the "Domains" link from the sidebar. From there, select the "+ Add Domain" link at the top right.
Enter the domain, click "Add Domain," and after a short wait, the domain will appear in the list of domains associated with your environment.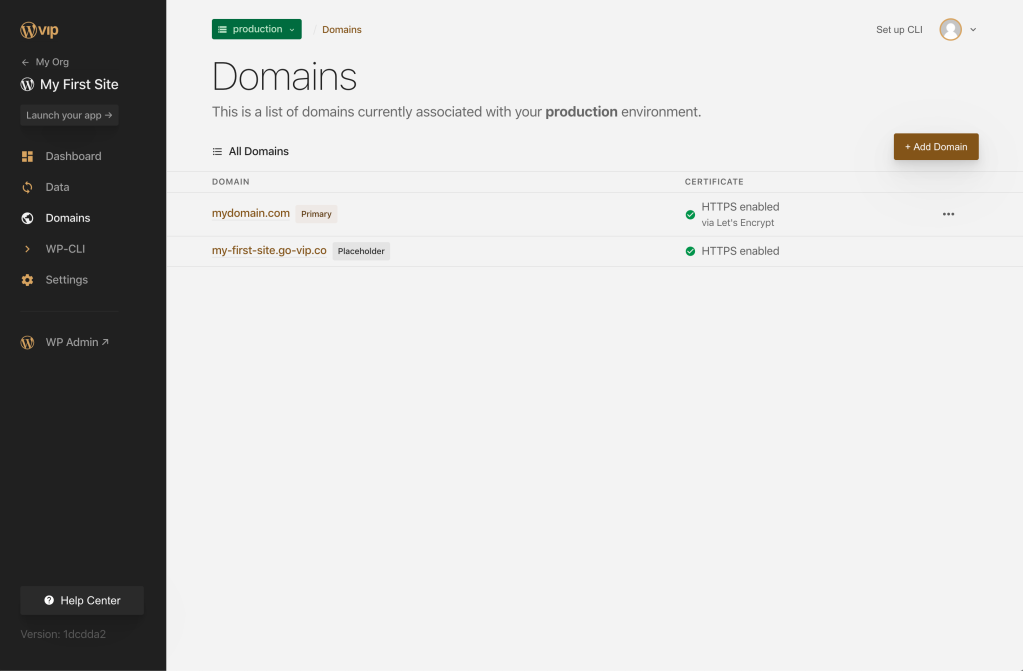 Point DNS to VIP
Once you've confirmed that the site is ready to go public, you can point the DNS of your domain to VIP to make your VIP site available to the public.
Note
If your site has a reverse proxy configuration review the set up instructions before updating DNS for your domain.
To the right of each domain, the "•••" button opens an overflow menu to access DNS information for that domain.
The "Setup your DNS" panel in the VIP Dashboard provides the values to point your domain to VIP using ALIAS, ANAME, or A Records for root domains and CNAME records for subdomains. Select and copy a record value from the "Setup your DNS" panel and follow the instructions from your own domain registrar or DNS host to add a new DNS entry.
VIP recommends using ALIAS records to route your DNS for root domains whenever possible.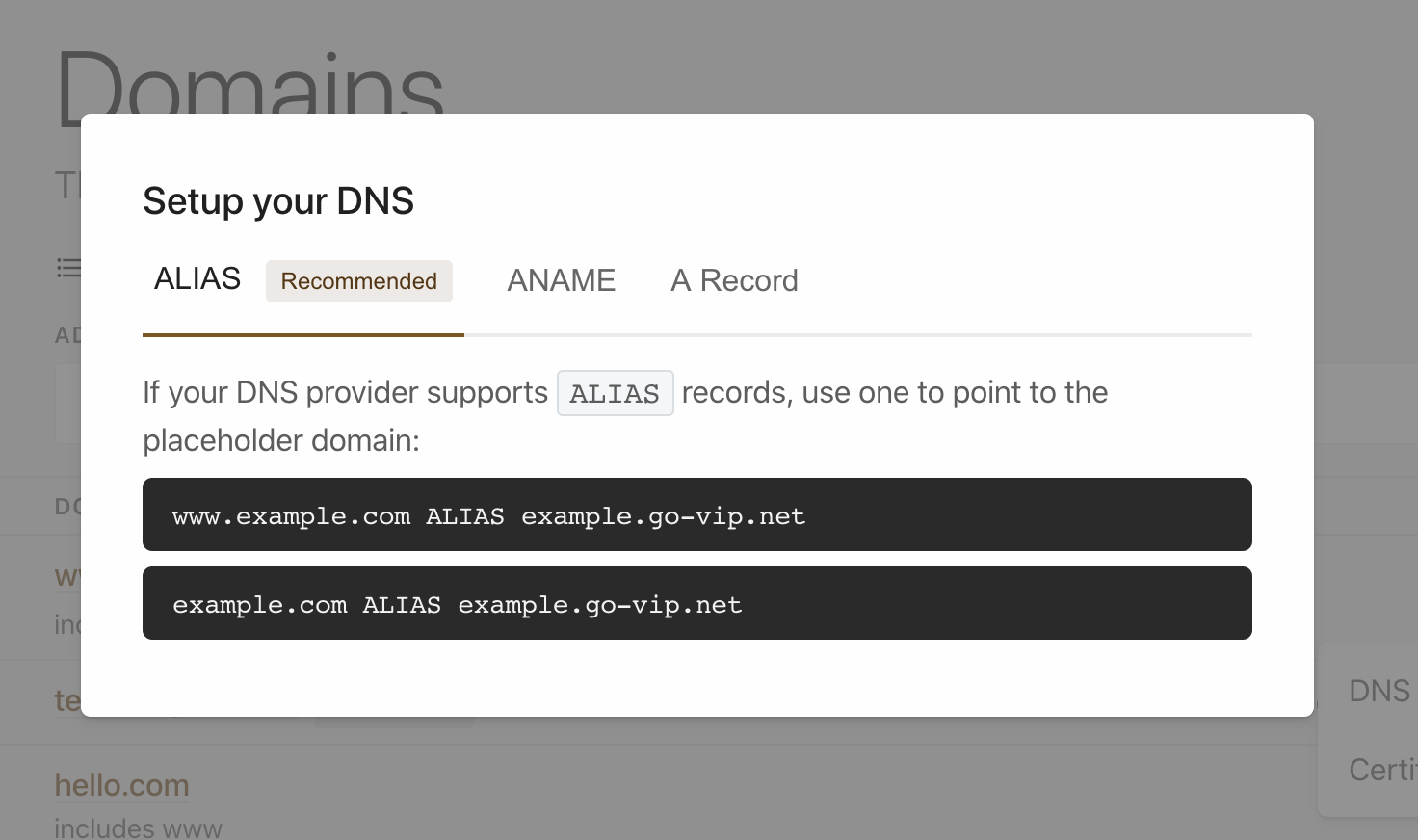 Once you have updated your DNS to point to VIP, the speed at which the new VIP site becomes visible at your environment URL will depend on the Time To Live (TTL) that you set for the domain with your domain provider. DNS can take up to a full 24 hours to propagate around the world. We recommend using a service like DNS Checker to confirm that your DNS was pointed correctly and ensure that it is propagating successfully.
You can also run a command via the Command Line Interface (CLI) to confirm that your DNS is pointed correctly to the ALIAS, ANAME, A record, or CNAME provided via the VIP Dashboard:
$ dig www.example.com
Add TLS Certificates
Let's Encrypt TLS certificates can be provisioned for a domain in the TLS Certificates menu.
Select the "Domains" link from the sidebar.
To the right of each domain, the "•••" button opens an overflow menu to access certificate options for that domain.
Let's Encrypt certificates are selected by default.
Custom TLS certificates from a different certificate authority can also be used. A Certificate Signing Request (CSR) must be generated by VIP Support.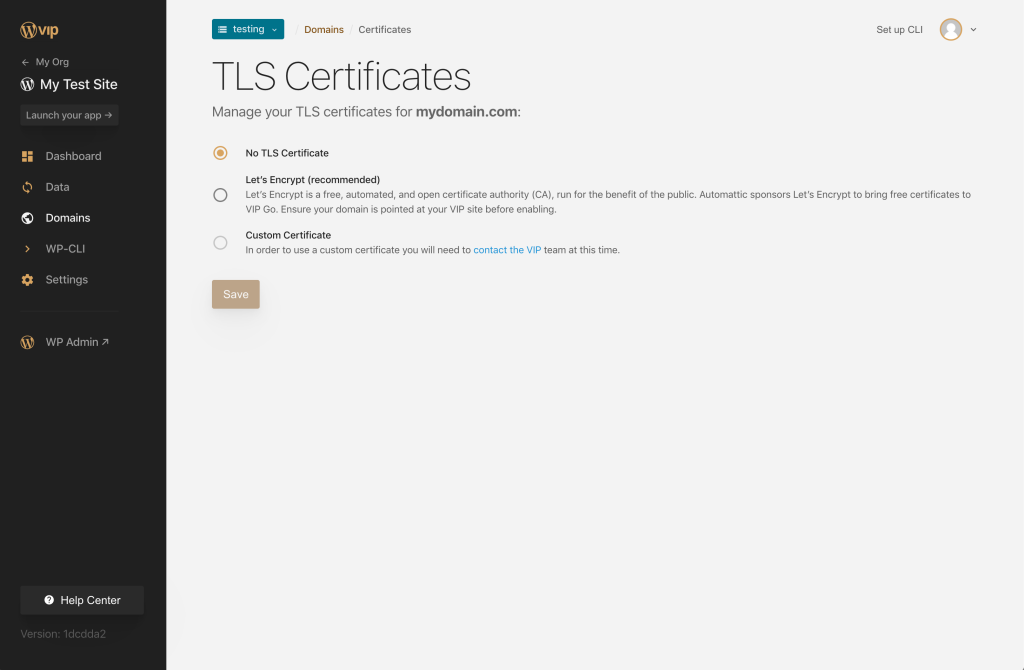 Domain mapping for multisite
For multisite, domains should be mapped to the application as per the above instructions. Domains must also be mapped to the relevant subsite in the Network Admin using core WordPress functionality. This only allows one domain to be used per site.
If you're using more than one domain per site, set up your vip-config.php file to handle redirecting secondary domains to the desired primary domain for each subsite. Note that for multisite, redirects between non-www domains and www variants need to be specified in vip-config.php.
For more advanced multisite domain mapping, you can use sunrise.php and, optionally, a domain mapping plugin.
For further multisite information, see our documentation about Multisite on VIP Go.