The Health panel is available in the application view of the VIP Dashboard. Select the "Monitor" tab in the top area of the panel to review HTTP Response Codes from the most recent 24 hours for an application.
Hover over a graphed line to see the breakdown of 4xx responses, 5xx responses, and Total Requests for each time period.
Response data can be viewed by one-hour time intervals. Times are displayed in Coordinated Universal Time (UTC).
Data is updated every 15 minutes. Depending on the current time, the last bar in the graph may or may not represent a full hour.
Access
To access the Health — Monitor panel:
Navigate to the VIP Dashboard for an application.
Select "Health" from the sidebar navigation at the left of the screen.
Select the tab labeled "Monitor" near the top of the Health panel.
The Health — Monitor panel is environment-specific (e.g., Production, Develop). A different environment can be selected from the dropdown located at the upper left of the VIP Dashboard application view.
5xx responses
An HTTP 5xx response (e.g., 500, 501, 502, 503, 504) indicates an error on the server side. For example, a 500 response could be produced if an application's server is no longer able to respond due to an encountered PHP fatal error.
Consider the following questions to help identify which part of an application could be causing the 5xx status responses:
Has code deployed recently that might have caused unnecessary strain on the servers?
Has there been a substantial traffic increase recently?
What does New Relic indicate about the site's performance? Which parts are having problems?
The New Relic APM tool is helpful for investigating data and patterns observed in the Health dashboard. New Relic is useful for looking specifically at Transaction traces and Errors to better understand the context.
Are there any PHP Errors that might be affecting the site's performance?
A snapshot of PHP Errors can be viewed in a New Relic APM → Errors page, as well as the "Logs" tab of the Health panel.
Is the site's caching strategy appropriate for the traffic load?
What are the main URLs affected by this problem?
Logs provided by HTTP request log shipping can give insights to connectivity issues, performance tuning, usage patterns, and in analyzing service interruptions.
4xx responses
HTTP 4xx responses (e.g., 400, 401, 402, 403, 404)signal an error on the client side. Most of the time, they do not indicate critical issues affecting a site. For example, if a user requests a page that does not exist, they will see a 404 Not Found error. If a user requests access to an application that is behind IP restriction, they will see a 403 Forbidden status if their IP address is not allowed.
In some cases, a pattern of 404 responses may indicate a missing redirect for a URL that needs to be put in place.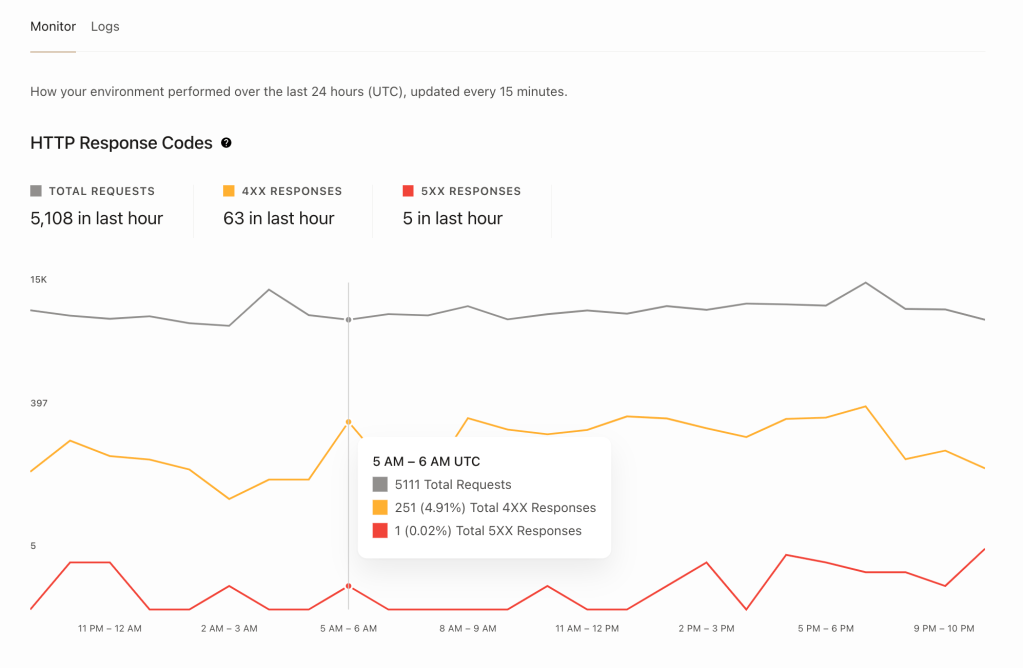 Last updated: January 17, 2023