Point DNS for a domain to VIP
Once a site is ready to launch, the DNS for a site's new domain must be updated with the DNS provider and pointed at VIP for the site to be publicly available at that domain.
After a domain has been added to the VIP Dashboard, settings for ALIAS, ANAME, and A Record for root domains and CNAME records for subdomains are available for reference in the Domains panel. 
VIP recommends using ALIAS records to route DNS for root domains whenever possible.
Navigate to the VIP Dashboard and select the "Domains" panel option at the left.
Select the "•••" button located to the right of the domain.
Select "DNS information" from the overflow menu.
The "Setup your DNS" panel in the VIP Dashboard provides the values to point a domain to VIP using ALIAS, ANAME, or A Records for root domains, and CNAME records for subdomains. Select and copy a record value from the "Setup your DNS" panel and follow the instructions from the domain's DNS provider to add or update a new DNS entry.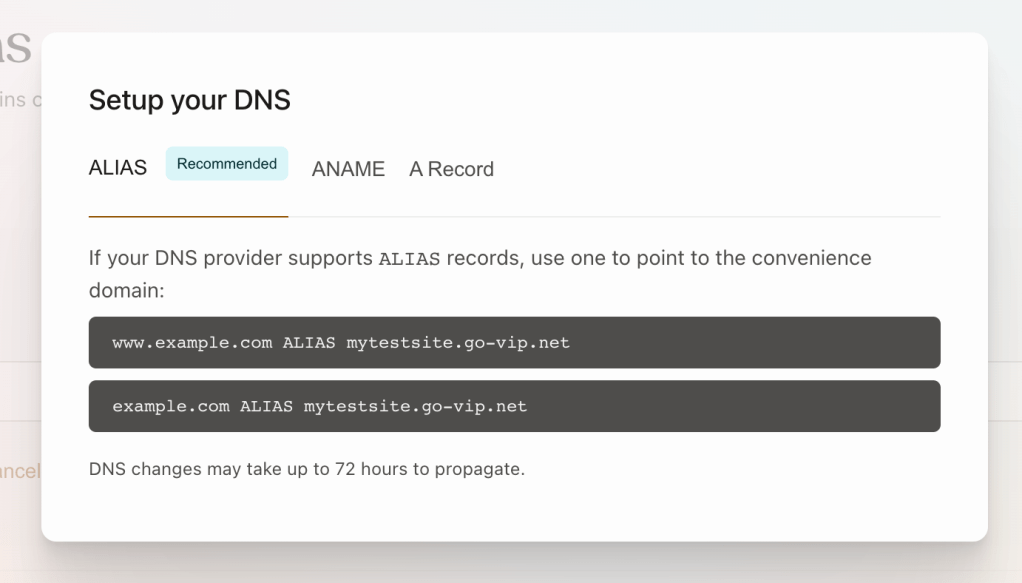 Once the DNS settings for the domain have been updated with the DNS provider, the speed at which the updated DNS will fully take effect is dependent on the domain's Time To Live (TTL). The dig command can be used to check the domain's current DNS record TTL, and any updates to a domain's TTL must be made with the DNS provider. DNS can take up to a full 24 hours to propagate around the world, and a service like DNS Checker can be used to track progress of propagation.
Confirm DNS settings are correctly updated
Command line
The  dig <domain>  command can be run in a terminal to confirm that the DNS is correctly pointed to VIP:
dig www.example.com
Output from the command will display settings for the domain's ALIAS, ANAME, A record, or CNAME. The settings in the output should match the setting information provided for the domain in the VIP Dashboard.
VIP Dashboard
The DNS column in the Domains panel of the VIP Dashboard will indicate if a domain's DNS is successfully "Pointed to VIP", or if it is "Not pointed to VIP" and updates are needed.