Convenience domains and FQDNs
Each new VIP Go environment is provisioned with a convenience domain for use during initial development and to facilitate pre-launch tasks. The convenience domain will be a subdomain of .go-vip.net or .go-vip.co (e.g. example.go-vip.net).
To ensure your site is as secure as possible, we do not allow launched production sites to use this convenience domain and you must procure a custom domain (e.g. example.com), before your site launches.
Non-production environments are highly encouraged to also use a mapped domain (e.g. develop.example.com).
VIP Go supports www and non-www variants of domains. We'll ask which variant you'd like to be the fully qualified domain name (FQDN). For single sites, the www domain will redirect to the non-www domain. In a multisite, these redirects will need to be handled specifically in the vip-config.php file, as outlined below.
All mapped domains on VIP Go need a TLS certificate. The VIP team is happy to assist with the procurement, installation, and renewal of certificates.
Domain mapping
Domains can be mapped in the VIP Dashboard with the following steps. You will need GitHub access to gain access to the VIP Dashboard, and you will need write access to manage domain mapping.
Select the "Domains" link from the sidebar. From there, select the "+ Add Domain" at the top right: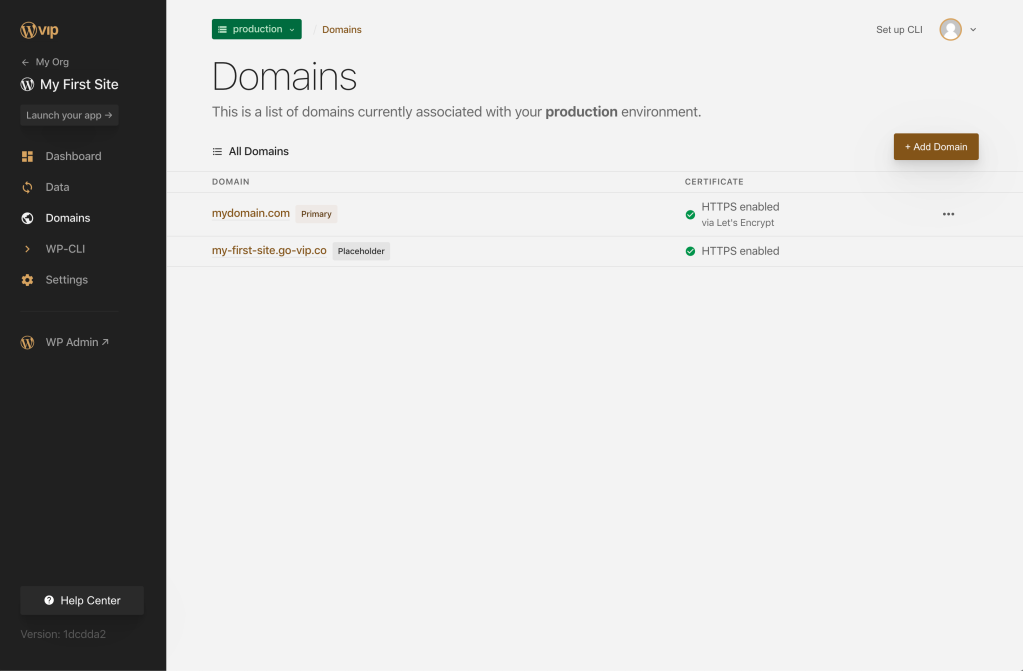 Enter the domain, click "Add Domain," and after a short wait, the domain will appear.
To the right of each domain, the "•••" button opens an overflow menu to access DNS information and certificates for that domain.
Let's Encrypt TLS certificates can be provisioned from the certificates menu. If a certificate from a different certificate authority is required, please contact us.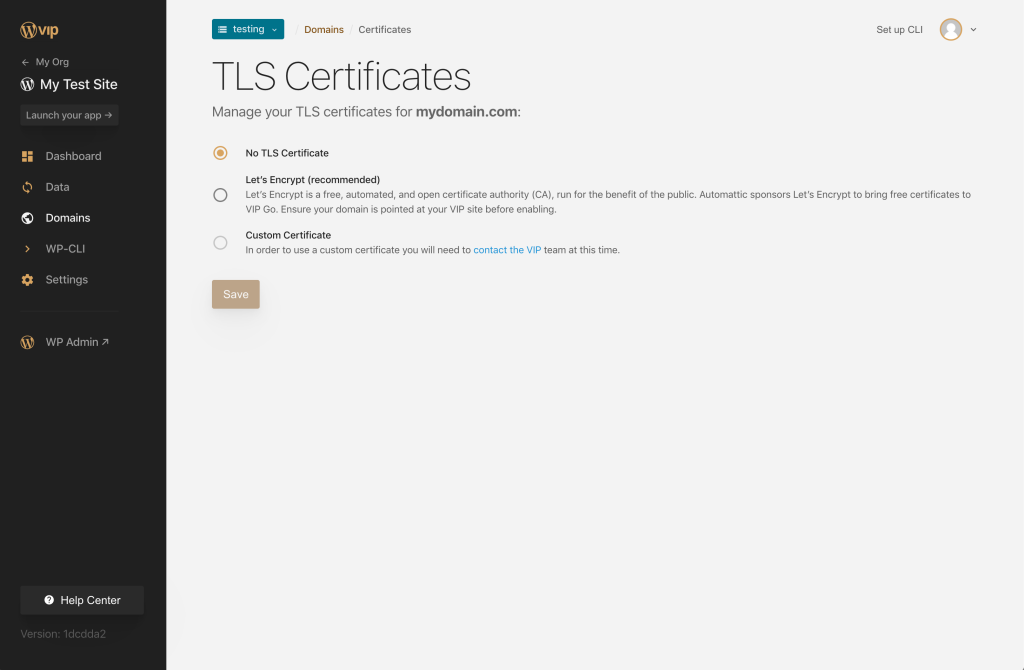 Domain mapping for multisite
For multisite, domains should be mapped to the application as per the above instructions. Domains must also be mapped to the relevant subsite in the Network Admin using core WordPress functionality. This only allows one domain to be used per site.
If you're using more than one domain per site, set up your vip-config.php file to handle redirecting secondary domains to the desired primary domain for each subsite. Note that for multisite, redirects between non-www domains and www variants need to be specified in vip-config.php.
For more advanced multisite domain mapping, you can use sunrise.php and, optionally, a domain mapping plugin.
For further multisite information, see our documentation about Multisite on VIP Go.