Invite new users to have access to an organization's VIP Dashboard, and assign Org roles and App roles to them that will define the permissions they have to interact with an organization's applications.
Note: User access and permissions for an application's GitHub repository are managed separately in the GitHub dashboard.
Prerequisite
Only users with an Org admin role can invite, remove, and manage user access levels for other users in the VIP Dashboard.
If an organization currently has no users with the Org admin role, and existing users are unable to view certain features such as the organization's Usage Plan Details, contact VIP Support for assistance.
Navigate to the organization view of the VIP Dashboard and select the "People" option in the left-hand navigation menu.
Select the "Platform Access" tab.
Select the button labeled "Invite New Users" located in the upper right of the panel.
Add up to 10 email addresses in the field labeled "User's email address" for new team members who require access to the VIP Dashboard.
Each email address must be added to a new line in the field.
Assign the Org role that will apply to all users for this invitation in the "Permissions" section.
The Org role for an individual user can be modified later by an Org admin if needed.
If the Org Guest role is selected for the user, options to "Configure application access" will appear below the Org role setting.

Search for an application by name or ID in the search field.
For each application, assign the App role that should apply to all users for this invitation in the "Allowed applications" list.
The App role for a user can be modified on a per-application basis later by an Org admin if needed.

Select the "Send Invitation(s)" button at the bottom right of the "Invite Users" panel.
Invited users will receive email invites from VIP with instructions for logging in to the VIP Dashboard.
Invitations are valid for 14 days.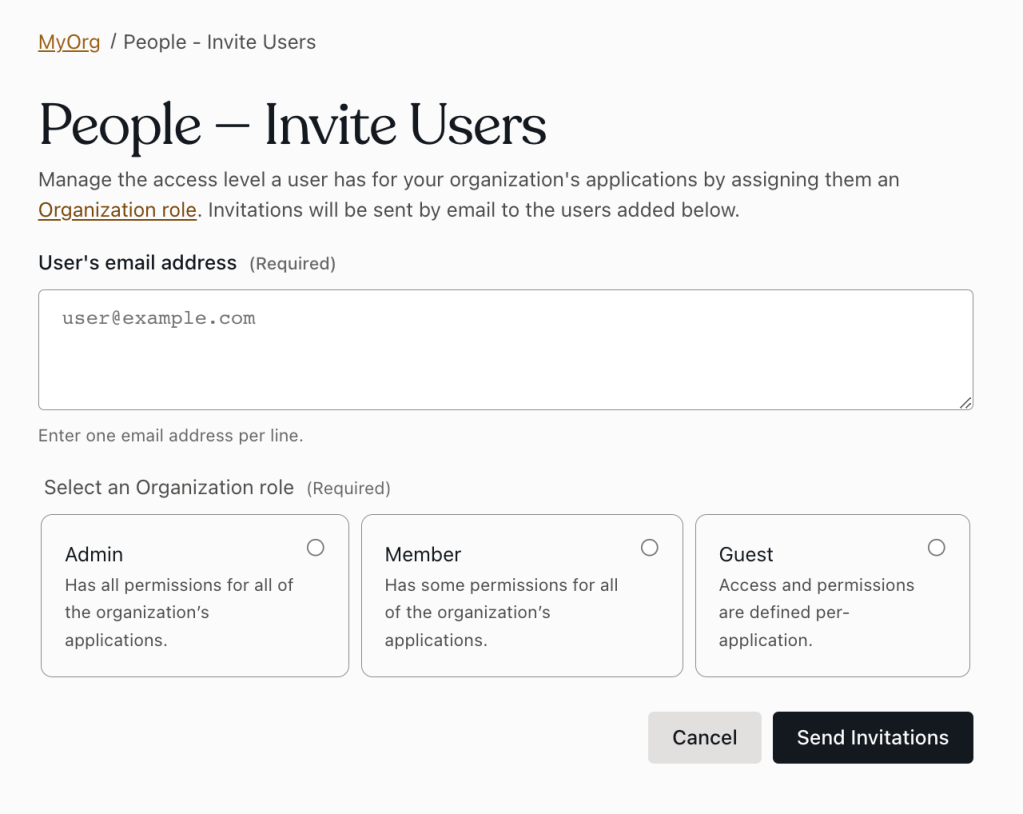 Last updated: August 03, 2023