The WP-CLI Commands panel in the VIP Dashboard displays a log of all WP-CLI commands that were run on an environment. WP-CLI commands are run using the VIP-CLI vip wp command.
Each logged command displays the following related information:
Command: The command that was run
User: The user that initiated the command. Users labeled "VIP" are members of the VIP Support team.
Time (UTC): Timestamp for when the command was initiated.
Duration: Time elapsed until the command was completed, canceled, or errored.

Access
To access the WP-CLI Commands panel:
Navigate to the VIP Dashboard for an application.
Select an environment from the environment dropdown located at the upper left of the VIP Dashboard.
Select "Logs" from the sidebar navigation at the left of the screen.
Select "WP-CLI" from the submenu.
Filtering commands
Limit the view of commands listed in the WP-CLI Commands panel by filtering the historical data.
Select the Filter at the top right of the dashboard panel to display a dropdown menu.
Select an option from the Filter dropdown to limit the view of logged commands by either Completed, Running, Cancelled or Errored commands.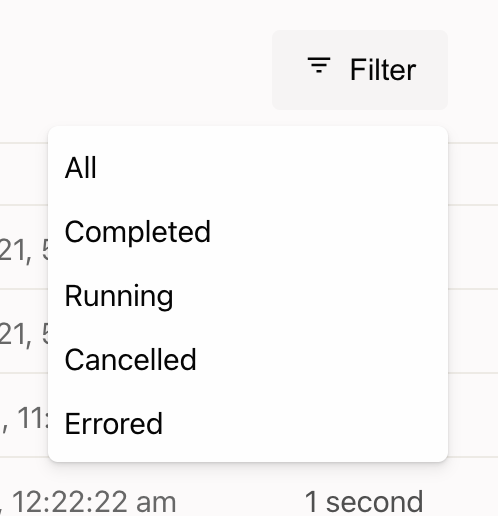 Canceling commands
Commands that are still Running can be canceled within the WP-CLI Commands panel by the user that initiated the command.
To cancel, select the "Cancel" option to the right of the Running command.
Last updated: September 20, 2023