VIP uses the Zendesk ticketing system to provide support for technical issues, launch planning and other support needs.
Note
Tickets marked as Urgent will immediately alert and interrupt the support team, so we appreciate that you use them sparingly for true emergencies like production outages, time-sensitive security concerns, and workflow-blocking situations where the site isn't functioning at all.
Contacting VIP Support
Support tickets can be opened by:
Logging in to the Zendesk portal (access provided after kickoff call)
Submitting tickets from "VIP" portal in the wp-admin of your site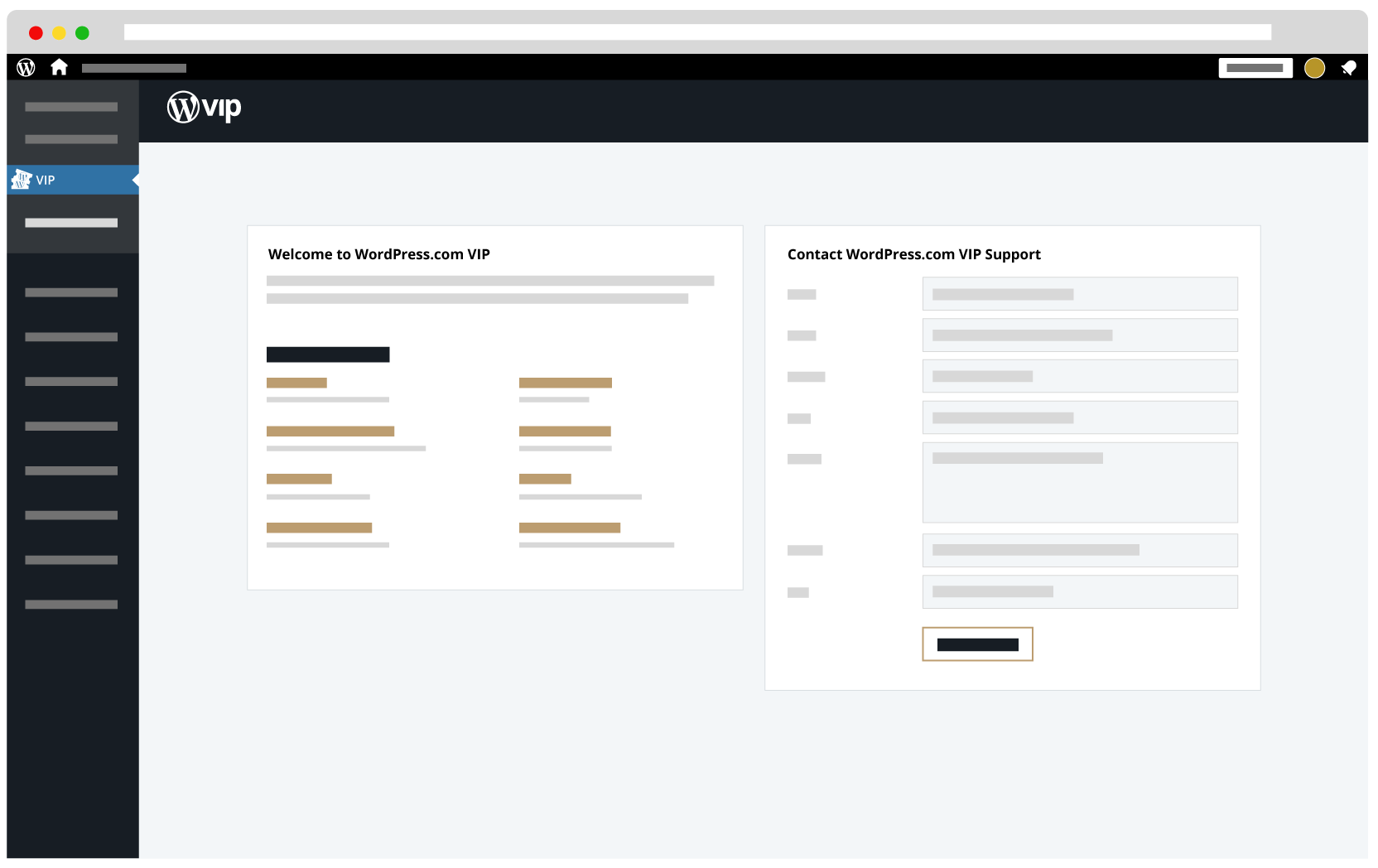 Submitting a ticket
Please open up a new ticket for each individual request. This allows our team to effectively route your questions and can help avoid confusion where multiple issues and resolutions are being discussed in one ticket.
When you create a ticket, you'll have the option of four different priority levels: low, normal, high, and urgent.
Urgent tickets alert the support team, so we appreciate that you use them sparingly for true emergencies like outages, time-sensitive security concerns, and workflow-blocking situations where the site isn't functioning at all.
Access your existing tickets in the Zendesk portal.
Add additional stakeholders using the cc field in the original email, or any subsequent responses.
By providing as much possible information listed below, you enable our team to fully understand the scope, nature, and context of your request, or to troubleshoot and investigate an issue quickly and efficiently. If the ticket submitted has insufficient information, the feedback cycle time for resolving the issue increases.
If you open a ticket that has a sense of urgency, please remain available and able to quickly respond if questions or clarifications are needed, or cc colleagues who are able to.
Information to include in a ticket
Essential
The domain name(s) that correspond to the VIP Go environment you are referring to.
Exact

URLs affected: front end, wp-admin, or both?

Steps to replicate the issue – this very important so we can start analyzing the problem right away.
Description of issue + supporting screenshots, error messages, and support details if applicable.
What is the expected behavior?
How does the actual behavior differ from the expectation?
Timings of issue occurrence.
Impact/number of users affected?
Helpful information for debugging reported issues
Please take time to investigate your issue and collect the following information:
What steps have you taken to investigate this issue so far?
What have you determined from using the Query Monitor?
What can you see by using your browser's development tools? Are there browser errors? What about the response headers?
Is the site down for everyone, or just you?
Have you isolated advertisements or other third-party content as possible sources of the problem?
Have your developers replicated this issue on non-production environments?
Additional information
Which network are affected users on? (e.g. office, home, mobile)
Which browser(s) is the issue appearing on?
If one user, what is the user's source IP? http://whatismyip.akamai.com/
If only a few users (less than 5), usernames of the affected users?
Have there been recent deployments?
Have there been network changes on your side? (e.g. DNS if applicable or internal network)
HAR file for the failing or problematic requests
Screen share or videos demonstrating the issue
If a reverse proxy such as Akamai is used, have you tried to reproduce the issue by sending requests directly to the Automattic anycast IP address after editing the local hosts file? 
If a decoupled architecture is used, have you determined that the issue isn't with the front-end application?
Have there been any caching changes (cache-control headers)?
Tickets that are not related to issues
We encourage use of our ticket system for any and all questions, not solely when problems occur.
If there's anything we can assist with, even a basic question, please send us a ticket.
Please assume we might ask "why?" "what problem are you trying to solve?" etc. to better understand your question, and that the more context and detail you can provide in the initial request (or reference from a previous ticket), the easier it will be to get started in helping answer your question(s).