1. Test the site by updating the hosts file
For WordPress site launches, the search-replace step in the VIP Dashboard launch flow will update the URL values in the database with the new domain, but public traffic cannot access the site until DNS records are updated to point to VIP.
Before a domain's DNS is pointed to VIP, verify that the site loads and appears as expected from the front end. To do so, view the site in its current state by updating the local machine's hosts file.
The site might display a warning that the site at the new URL is not secure. This is expected behavior if TLS certificates are not yet installed. This warning will disappear once DNS is pointed and TLS is installation is complete.
After verifying that the site is loading as expected, be sure to remove the test lines that were added to the hosts file before updating the domain's DNS.
2. Point DNS to VIP
The DNS Instructions screen in the VIP Dashboard provides ALIAS, ANAME, and A Records for root domains and CNAME records for subdomains. VIP recommends using ALIAS records to route the DNS for root domains whenever possible.
For a VIP site to be available to the public, DNS must be updated with the domain's DNS provider and pointed at VIP.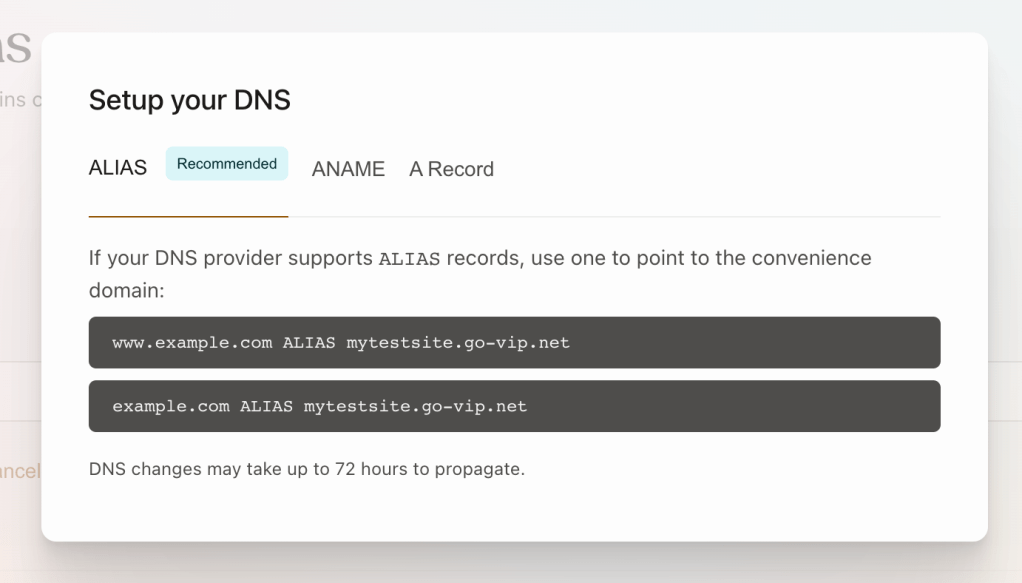 If a reverse proxy is implemented for the site, ensure that the reverse proxy setup guide has been reviewed.
Once the DNS has been udpated to point to VIP, the speed at which the new VIP site becomes visible to the public at the production URL will depend on the TTL that was set as part of launch preparation. DNS can take up to a full 24 hours to propagate around the world.
A service like DNS Checker can be used to confirm that the DNS was pointed correctly and ensure that it is propagating successfully.
The command dig <domain> can also be run via the Command Line Interface (CLI) to confirm that the DNS is pointed correctly to the ALIAS, ANAME, A Record, or CNAME provided via the VIP Dashboard.
3. Confirm or provision TLS
TLS certificates can be procured and installed as a self-service feature of the VIP Dashboard.
Let's Encrypt is available by default for all domains and can only be installed after a domain's DNS is pointed to VIP and fully propagated.
Custom TLS certificates that were installed earlier will be available and working immediately when a site is launched.
Last updated: August 03, 2023